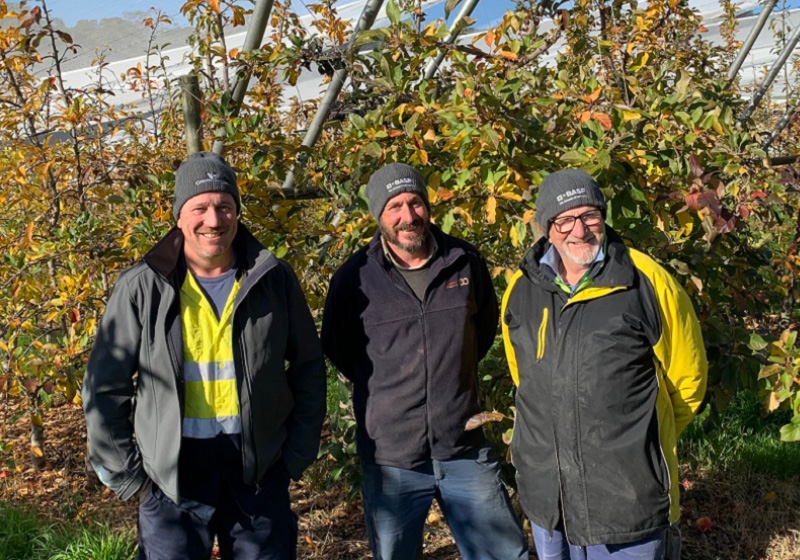 In the late 1800s, Duncan and Damon Nicol's great, great, grandfather ran away from his merchant navy ship in the Adelaide harbour, and headed for the hills to start a new life on the land.
Five generations later, his descendants are still producing premium food on the fertile soils of Basket Range, only 30 minutes from the CBD.
There, brothers Duncan and Damon - together with their parents Michael and Imelda - harvest tonnes of Pink Lady apples and several other varieties every autumn for the local market.
It's a bit early to say whether a sixth generation will follow them onto the land – Duncan's son Mason loves getting out in the orchard, but he's only three, "so he's not thinking about a career plan just yet!"
Meantime the Nicols are concentrating on orcharding smarter, not harder, to remain viable as small-scale boutique apple growers now, and into the future.
They've invested years of profits into hail netting almost all their 15ha of trees; consolidated plantings on the land easiest to manage; rejuvenated their varieties; and moved to a simpler business model with fewer costs and risks.
Today the focus is on growing the best fruit they can, with the best margin, for supply to the local packhouse.
Apples do well at Basket Range, but there are some perennial challenges – codling and light brown apple moth; and a typically wet spring, which means black spot and powdery mildew.
The Nicols practice integrated pest management (IPM), using beneficials and predatory mites, and run a very strict preventative fungicide programme.
"We can't grow a crop if we don't have reliable fungicides," Duncan says. "They're absolutely necessary."
They don't hesitate to use new chemistry, provided it offers value in crop protection, so when their agronomist Mike Polymiadis, of Growers Supplies, asked them to test Belanty, a novel fungicide formulation from BASF in 2019, they were happy to oblige.
Belanty is a breakthrough DMI fungicide for use against black spot in apples, giving growers more confidence and flexibility in producing top quality fruit to strict market specification. It also has a favourable IPM profile.
The Nicols' orchard improvement process created a perfect test scenario for Belanty.
Part of the orchard had been completely cut back for rejuvenation, leaving only one complete apple tree in every 20 for pollination.
Routine fungicide spraying wasn't economically viable in this block with so many trees cut back, so the remaining complete trees were left without any normal protective treatment.
The result was a textbook black spot infection, totally at odds with typical orchard management.
"By December we had very visible black spot infection on those trees. We killed it with Belanty. You could definitely see that it had worked."
A single application of Belanty was made on the pollinator trees when the fruit was at about 50 mm, mixed with Delan 700 WG and foliar calcium fertiliser.
This result was enough to make Nicols confident about considering Belanty as part of their fungicide program across the main orchard this season.
They like Belanty's suspension concentrate (SC) formulation, too.
"It's a nice soft formulation for apples. EC (emulsifiable concentrate) fungicides can give skin finish problems – russet, lenticel breakdown, that sort of thing. We've gone to wettable powders for that reason."
Agronomist Mike Polymiadis has seen enough crop protection chemistry come and go during his 33 year career to have no doubts about recommending Belanty this season.
"It did an excellent job. I'm definitely confident about recommending it this year."