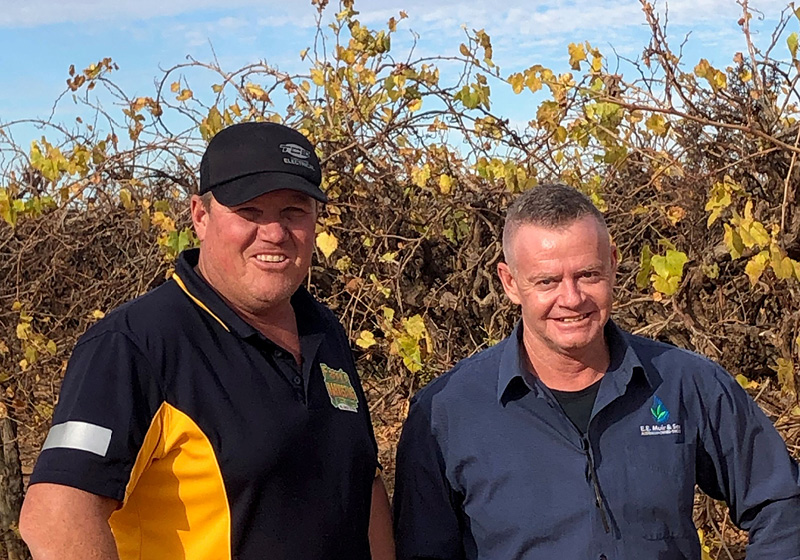 Last year, Coomealla wine grape grower Brent Farnsworth was able to finish his fruit well for a good harvest for Treasury Wine Estates and Zilzie Wines.
And the prolonged hot, dry weather had at least one upside – with no rain to create humidity, fungal disease pressure was low.
After 24 years on the vineyard, however, Brent takes no chances when it comes to powdery mildew, especially for his high yielding chardonnay blocks.
So his preventative disease control program went ahead, notwithstanding the climatic conditions.
"We don't take that risk. I can't afford to lose a crop – the bank manager would want to see me for sure if I did!"
Brent uses sulphur and DMI fungicides to control powdery mildew, and last season included a new DMI, Belanty, in the spray program.
Developed by BASF, Belanty is a breakthrough DMI fungicide. It's mode of action (MOA) against powdery mildew in wine and table grapes, gives growers more confidence and flexibility to produce top quality fruit to strict market specification.
Importantly, it has much lower residues with a later application window than other DMIs, and maximum residue limits (MRLs) have already been approved for export to the EU.
Warren Seaman, from E.E. Muir and Sons in Dareton, has been Brent's agronomist for 14 years, and asked him to trial the new product.
"Belanty has a good fit for our conditions. Powdery mildew is always an issue here, and chardonnay is highly susceptible," Warren says.
DMI fungicides are a 'very, very effective tool' in controlling powdery mildew, specifically at capfall, but Brent is mindful of the need to manage the risk of fungicide resistance.
So even though there was minimal disease pressure on Belanty this past season, he's confident about using it in the future, because it has a different MOA than other DMIs.
The son and grandson of Western Murray grape growers, he's built the business up steadily over the past 10 years, and is active in the industry, including six years as chair of the Mildura Region Winegrowers Association, and three years on the board of Murray Valley Winegrowers.
He is currently one of four grower representatives on the Murray Valley Wine Grape Industry Development Committee.
His 19-year-old self would have been surprised at this turn of events. "The last thing I wanted to do at that age was grow grapes!"
He's hoping a fourth generation of Farnsworths will continue the family's wine grape growing legacy. For now, however, he's just happy autumn has brought rain.