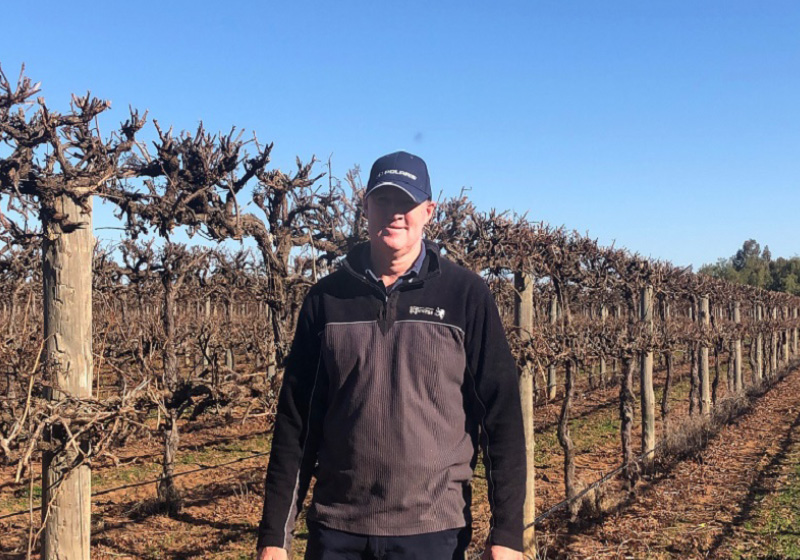 When it comes to fungal disease management on his family vineyard in north west Victoria, grower Andrew Flanagan thinks first and foremost about wine, not grapes.
"What the winery says we can use is all we're interested in. If overseas countries say we can't use certain products, we just don't use them."
Andrew and his wife Vicki have been growing grapes just off the Murray Valley Highway, near Vinifera, for 22 years.
Together with Vicki's parents, they annually harvest about 200 acres of chardonnay, cabernet sauvignon, shiraz, semillon, petite and others.
Powdery mildew is a constant potential challenge, not least because of the need to manage the risk of fungicide resistance and increasing market scrutiny on chemical inputs.
Andrew's agronomist Victoria White, from E.E. Muir and Sons at Swan Hill, says it was these factors in mind that she encouraged him to try a new protective DMI fungicide in 2019.
Belanty has been developed by BASF and contains a new molecule with a unique mode of action against powdery mildew in wine and table grapes.
"Sustainability is a major consideration for our growers, particularly around which inputs they can and can't use while still being confident of producing clean, high quality fruit," Victoria says.
Key features of Belanty are faster fungicide uptake by the plant, for immediate protective action against disease; and quick absorption and rainfastness, giving growers more confidence and flexibility in producing top quality fruit.
Andrew made one application of Belanty to cabernet sauvignon just after flowering in mid-November. This was in addition to his normal sulphur sprays.
While crop protection is vital for their business – 'we wouldn't be able to do what we do without it' – he is well aware of the risk of resistance developing not just to fungicides, and also herbicides.
"We're pretty careful using the DMIs."
Hot, dry conditions meant disease pressure was minimal, but he welcomes the availability of new chemistry for future seasons.
Belanty is the only DMI fungicide of its type and features innovative chemistry that enables it to bind tightly to fungal pathogens within the plant cells.
Mark Dicks, senior technical services specialist, BASF Australia, says the molecule's ability to change shape and fit inside the enzyme pocket means it can control pathogen strains that are resistant to traditional DMI fungicides.
"Belanty is a DMI Group 3, but is a new sub-class on its own (isopropanol azole). The chemical structure of this molecule differs substantially from all other DMIs. It is classified as a DMI only because of its site of action."