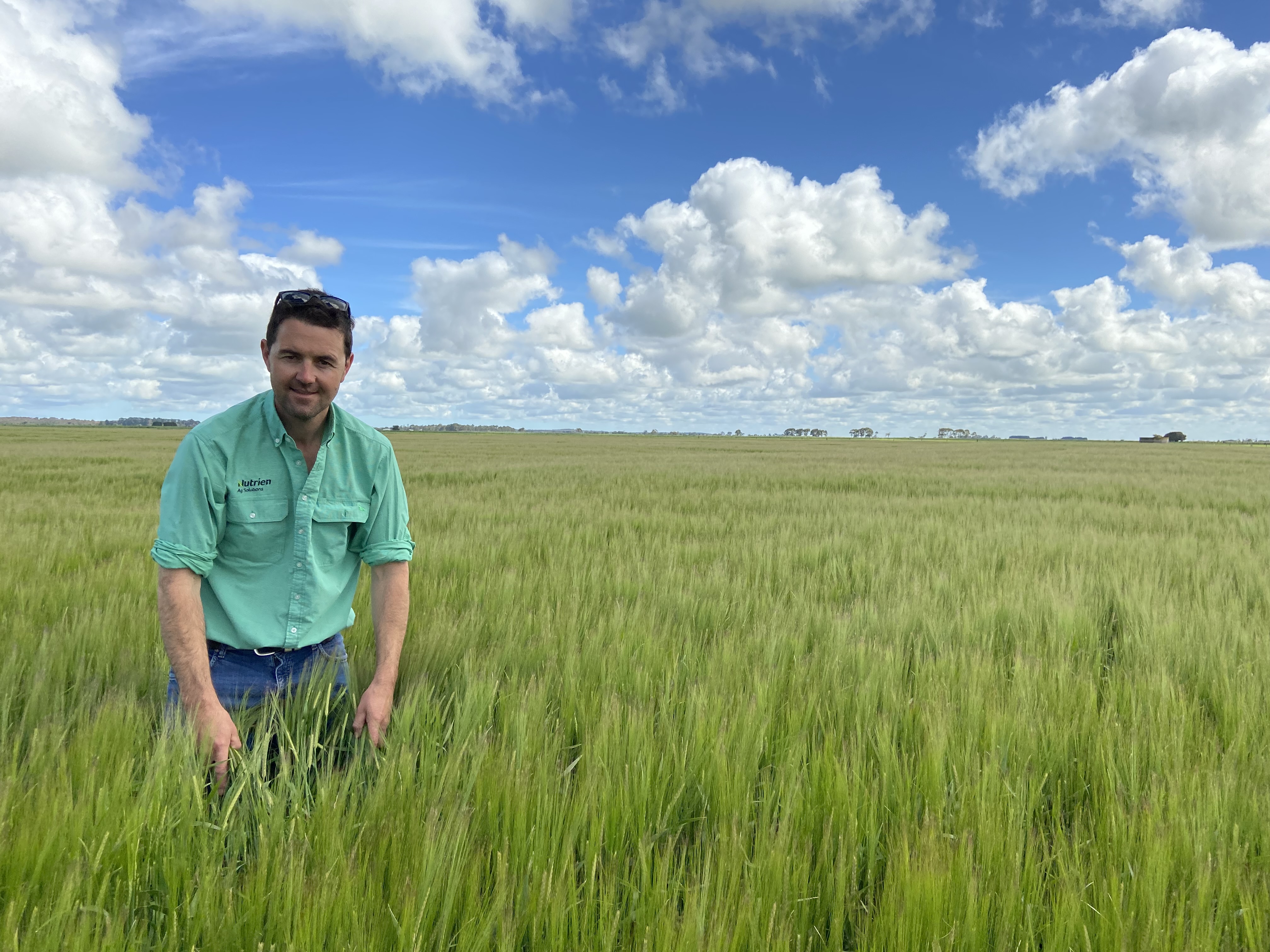 James Heffernan's Twitter profile still describes him as a "Agronomist in the HRZ of SA", but he says the grain-growing area in the Limestone Coast region of South Australia isn't as 'high rainfall' as it used to be. Which makes it all the more impressive that the local growers have recently been able to produce much higher barley yields than in the past.
"It's been fantastic," James says. "The last two or three years have revolutionised our barley growing. The barley is out-yielding the wheat. We're getting 8 to 10 tonnes a hectare from dryland crops and that's our new yield expectation."
The introduction of Planet barley takes most of the credit for the jump in yields, but James says Systiva's control of key foliar diseases is also playing a strong supporting role: "We're using Systiva on every square inch of our barley and have been getting totally clean canopies."
James is now an Agronomy Account Manager for Nutrien and has been involved in a lot of trial work over the years, including with the SA Crop Technology Centre and the MacKillop Farm Management Group, so he's a shrewd analyst of new trends in cropping.
"The introduction of European genetics in barley and wheat varieties is a big change," he says. "We're growing Anapurna wheat, and Planet barley – I won't call it a freak, but it's a world leader that's well adapted to lots of the growing conditions we get in Australia."
James describes some of the conditions in his own neighbourhood as close to ideal. "We used to be a high rainfall zone, but not anymore. Now we get between 450 and 600 millimetres a year. From Conmurra, south of Lucindale, across to Bool Lagoon, south of Naracoorte, we've got heavy black self-mulching soils with really top-end yield potential. The shallow water table can cause issues, but Planet is really well suited to the area."
James is aware that there have been incidences of net blotch with reduced sensitivity to SDHI chemistry in other growing areas, but doesn't feel his customers need to adjust their use of Systiva at this stage.
"Systiva is used as the preferred treatment on every barley crop. We have a reasonably robust crop rotation and only use it on barley at the moment, mainly for spot form net blotch control. Septoria in wheat is an issue, but it's not the major disease threat."
They follow Systiva with a different fungicidal mode of action.
"Our first foliar spray is a triazole at GS31, and then we use a triazole/strobi spray at flag leaf."
James backs up those crop and chemical rotations with monitoring and resistance testing.
"I'm not sure we're seeing any resistance yet, although there's been a bit more net blotch later on than in recent years. It could be a loss of sensitivity to the SHDIs or the triazoles, so I've collected some samples to send away for testing this Spring."
So far, so good and James seems to have all the key management practices in place. In the meantime, he's pretty happy with that huge change in barley's local performance through such simple changes: "The addition of Planet and Systiva – it's been unbelievable."
James Heffernan - Agronomist, Nutrien Ag Solutions, Narracoorte SA