The newly released Termidor HE formulation has provided time savings and the advantages of a premium offering for pest controller Aaron Bonney, of POD'S Pest in Townsville, Queensland.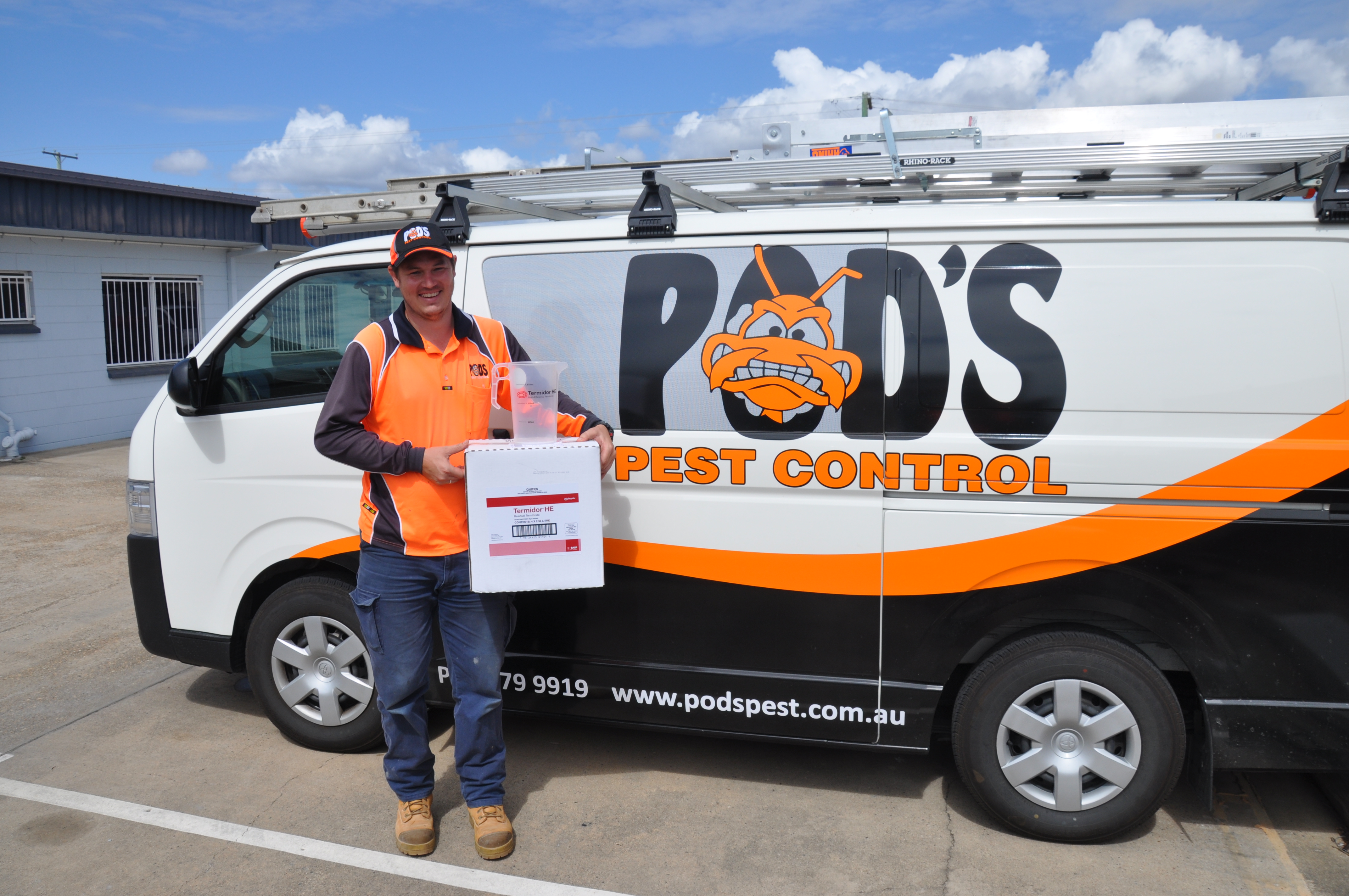 Mr Bonney said termite control was a major part of their business and they had utilised the existing Termidor SC formulation with great success in many homes and businesses across the local region.
"There was a high standard set with Termidor SC and when they announced Termidor HE we were really interested in trying it," he said.
Mr Bonney received the first batch of Termidor HE in Australia and has been impressed with the advantages of the product.
"It has a lubricant on the active ingredient that allows it to travel a lot further through the soil. Once it settles the lubricant comes off and the product is able to do its job."
He said the major advantage of Termidor HE was the interval between drill holes.
"With Termidor SC we were drilling holes 150mm to 200mm apart. Those spacing distances can increase to 450mm with Termidor HE.
Mr Bonney said the major advantage was the less drilling and less labour needed to do the job.
"We are saving two-thirds of the drilling time," he said.
It also means there is less disruption to the home or business owner with the number of drill holes decreased significantly.
"The other benefit to my business is that we can command a premium price for the product," Mr Bonney said. "We can give our customers an option with less drill holes and many people will go for that."
He said one particular client had termites in his property but waited six months for Termidor HE to be released to have less drill holes around the exterior.
"There were large ceramic tiles for 80 metres around the perimeter. We were able to drill through the mortar and protect the valuable tiles."
"I'm reluctant to drill through tiles so this was a great option to avoid doing that and keep the home owner happy."
Mr Bonney said the new formulation had a bubbly action and flowed a lot better than other termite options.
"We are still putting in the label rate but this has the ability to travel under tiles and concrete. It also has a different sort of smell. There is a sweet smelling odour."
He said he was amazed at how quickly prospective clients learnt about the new product.
"Termidor is well known and most people research through the internet when they think they have termites. Word soon got around that there was a new option available."
The product has been available in the USA AND Mr Bonney said he had been looked at research and spoken to his local BASF sales manager in the lead-up to its release.
"We were one of the first to receive HE when it became available, and we were accredited and started to use it straight away."
He said the formulation settled into two distinct layers in the bottle and just needed to be shaken up to mix before it was used.
"We will often shake it up in front of the client. It is a process the client likes to see. It is quite distinctive."
He said they would still offer Termidor SC to their clients and use it in soil areas.
"One doesn't replace the other but Termidor HE will be preferred in concrete and tiles where you need to stretch the interval period out. People will pay a bit more for that service."
POD's has been operating in the Townsville area for almost 50 years and has built an enviable reputation for service over that time.
There are currently five pest control trucks on the road servicing residential, government and business clients.
Mr Bonney said termites were of great concern in the region with a range of different species that included the very destructive Mastotermes darwiniensis, Coptotermes acinaciformis and many others.
He said most of the clients came through word of mouth and often the following inspection revealed a termite issues.
"We give them the bad news, and then we give them the good news."
Termidor products are a major part of the solution to getting rid of termites and keeping them away on a long-term basis.