After Dr Roberto Busi of the University of WA tested a range of pre-emergent herbicides for the control of suspected resistant annual ryegrass biotypes earlier this year he tweeted that:
"Luximax appears as the most effective breaker of multiple-resistance in 2021."
That's an important finding which reinforces the value of growers extending their pre-em rotation to close previous and emerging gaps in weed coverage. The pre-sowing application of pre-em herbicides for incorporation at sowing has become the critical window for establishing effective weed control – and especially for managing annual ryegrass numbers – in cereal crops.
This year's enthusiastic uptake of new Voraxor® from BASF, a residual pre-emergent and knockdown broadleaf herbicide with complementary suppression activity on annual ryegrass ('ARG Assist'), confirmed that growers see value in increasing the spectrum for pre-em weed control across grasses and broadleaf weeds to drive greater efficacy and outcomes.
The trial results shown in the graph below confirm that using Voraxor as a tank-mix partner with the premium grass-weed herbicides in place of trifluralin achieves the same very high level of ARG control while also adding coverage of the key broadleaf threats. That's Voraxor's additive 'ARG Assist' effect.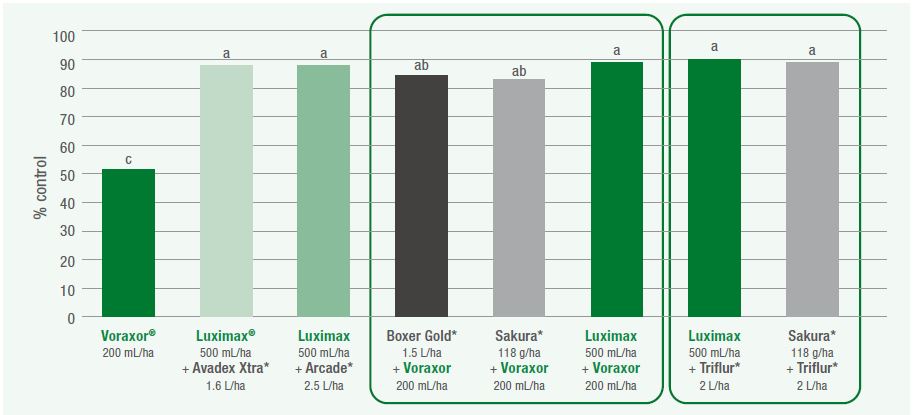 Combined data from 3 x 4 replicate trials in NSW, VIC and WA 2020 *Registered trademarks
But the real elephant in the room – or paddock – is the increase in herbicide-resistant annual ryegrass biotypes. ARG remains by far the most damaging and costly weed in broadacre cropping and its rapidly changing resistance profile makes the introduction of new grass-herbicide modes of action important too.
These graphs show the incidence of resistance revealed by sample testing to date. At the time of writing Luximax is one of the only pre-emergent grassweed herbicides in the market for use in wheat that hasn't encountered any confirmed resistance. While the number of sites where resistance to Group 15 has been found is currently still quite small, we know from experience that the spread can be exponential from year to year with potential over-use of this chemistry. The reclassification that has grouped the relevant Group J and K actives together as Group 15. The 500 randomly selected ARG samples Roberto Busi used for his pot trials were collected from farms across South Australia, Victoria and Western Australia and submitted as part of the AHRI (Australian Herbicide Resistance Initiative)/UWA resistance testing service.
Number of sites containing annual ryegrass with confirmed resistance to each MoA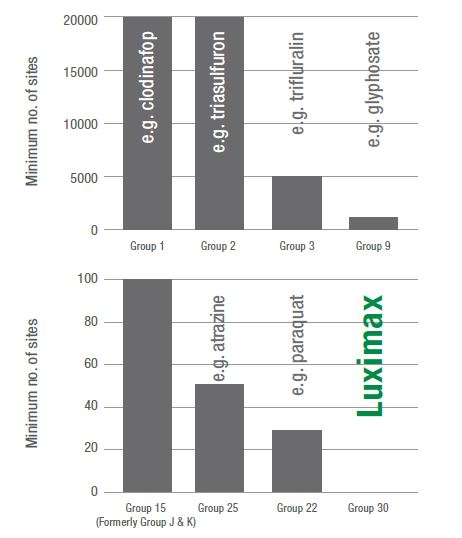 Source: croplife.org.au/resources/programs/resistance-management/herbicide-resistant-weeds-list Accessed 16/7/2021
2021 AHRI pre-emergent pot trial
2021 AHRI pre-emergent pot trial. 500 random ARG samples (80% from WA, 10% Vic & 10% SA) screened with treatments 4 WAA *Registered trademark
"We already knew that Luximax's unique mode of action would control annual ryegrass biotypes with resistance to any other herbicide," says Phil Hoult, the Technical Services Manager at BASF. "The big benefit of Roberto's extensive and valuable trial work is that it showed the difference Luximax's Group 30 MoA can make as a resistance-management tool into the future, either standalone or in tank-mixes."
"We hope these latest findings will spur more agronomists and growers to add Luximax to their toolbox in 2022, whether to manage confirmed or suspected resistant annual ryegrass or slow the appearance of resistance on their farms."