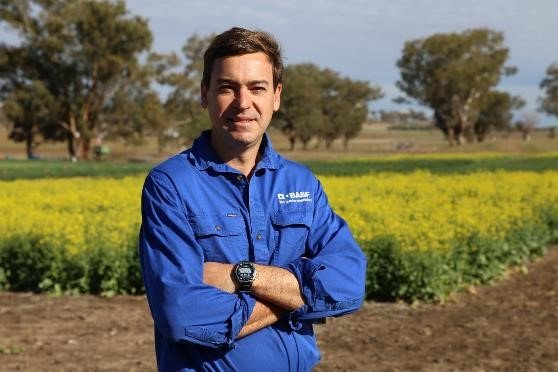 Ian Francis joined BASF Agricultural Solutions about ten years ago and is now serving as the Head of Development – Crop Protection, BASF ANZ
In conjunction with National Agriculture Day 2021 and in line with this year's theme of Choose your #AgVenture, we at BASF caught up with four of our Ag colleagues to shed some light on their experiences in this broad field. For part two, we speak with Ian Francis, who has been with BASF Agricultural Solutions for just over ten years, and who has of October 2021, taken on his latest role as the Head of Development – Crop Protection, ANZ.
Sometimes you make a conscious decision to venture into ag, and sometimes you're just born into it. For Ian, it was certainly the latter, as he was born on a mixed farming property, with sheep, cattle and cropping, resulting in him developing an appreciation and passion for agriculture from a young age. This in turn made a career in ag a natural progression. He shares, "You could say that I have ag in my blood, so after completing my university degree, I started working as an agronomist with IAMA in Croppa Creek, NSW, which is an area with both summer and winter cropping. This proved to be a great introduction to diverse crop agronomy, what growers need and how crops fit within the entire farming system."
After his first ag job, he pursued technical roles with two major agriculture companies, which he credits with giving him a strong understanding of product development and appreciation of technology deployed in both crop and non-crop markets. It was also during this time that Ian was given more commercial responsibilities and completed his MBA. "Pursuing an MBA whilst being able to observe the commercial operations in ag allowed me to develop a much broader view and understanding of business strategy and management, whilst being able to implement some of the things I learnt immediately in my professional role," he mentions.
Interestingly enough, Ian went back into a field role after completing his MBA, taking on a Principle Project Biologist role with AgriSearch, a contract research organisation or CRO. This role brought him closer to working with farmers again and he credits it with providing him with invaluable insights into the demands and challenges faced by the ag industry at its most granular level.
In 2011, he joined BASF as a Technical Services Manager, which is centred around the various aspects of product development from research and formulation to field trials, data management, regulatory approvals, product launches and marketing. Over the past ten years, Ian's seen his career develop, taking on the role of Technical Development Manager in 2013, and most recently, becoming the Head of Development – Crop Protection, ANZ in October 2021, almost exactly ten years after joining BASF.
In reflecting on his early experiences with BASF, Ian says,, "Back when I first started, we were in the early days of returning to the ag market in Australia, with a crop protection team of less than 10 - it now numbers over 60. I clearly remember the time when we started to transition the business back from the NuFarm distribution model in 2013, and how challenging a time it was in terms of personnel and resource availability. Even though we were one of largest chemical companies in the world, we had the feeling of a start-up in terms of agility and environment, which in turn, provided me with a lot of personal and professional growth."
Ian has certainly grown with the organisation over the years, but the most memorable moment for him was certainly playing an instrumental role in binging Voraxor®, a herbicide and one of BASF Agricultural Solutions' key products to market. He elaborates, "I was initially involved in the global development project when I started with BASF, and through trial work, we identified that it would be a solid technical fit for the Australian market. However, there were limited resources at a global level which meant that the development of this product would be stopped, at least for the foreseeable future. I personally believed that there was a lot of potential in Voraxor and working with some other determined colleagues, we made a strong argument and were able to convince the global business to allow us to finish the development process. As a result, we were able to bring the fantastic new herbicide, Voraxor to market in 2020, which has been a superstar for BASF so far. What provides me even more satisfaction is that we're finding even more applications for Voraxor to be used in other segments, thus broadening its application and importance to our company and the agricultural industry."
In short, it worked out because Ian didn't like to be told 'no'. Ian continues, "I learnt a lot from that experience, and realised that even in an organisation that focuses on scientific development and technological innovation, there are still times when you may have to roll up your sleeves and fight for your point. However, as much as there are opportunities, the ag industry also comes with a myriad of complexities. Looking a little further into the future, Ian believes that climate change will have a massive influence on seasons, not only in terms of production but also pests and diseases. "It can be challenging working with long timelines for product development to forecast farmers' needs for 5, 10 or even more years into the future, he mentions, also underlining the importance of research, technology, digitalisation and of course, sustainable chemical products to take ag into the future. 
Speaking from his wealth of knowledge and experience about the industry, Ian advises those contemplating a career in ag to find an area of passion and follow it, saying "Ag is a really broad field, so I believe there's probably something in here for everyone. There are also a lot of genuine and passionate people in this field, and they will always be more than happy to provide information, assistance, or advice if you'd just ask. When an interesting opportunity in ag does present itself, I'd advise anyone with a passion for this to jump right in and give it a go! It's been said that farming is the 'Biggest job on Earth', and I believe that's true due to the importance, risk, and complexity of ensuring a stable food output. This National Ag Day, it's my hope that we'll all stop and think a little bit harder about where our food comes from and hopefully appreciate our farmers and ag industry even more!"