We don't just say Voraxor will control the most damaging broadleaf weeds, we guarantee it.
If Voraxor fails to live up to our performance promise in the pre-emergent control of specific broadleaf weeds, BASF will provide you with your choice of a recovery or replacement product.
The guarantee applies when you use Voraxor at either of its two rates for residual control:
240 mL/ha applied 7-21 days before IBS
200 mL/ha applied 0-7 days before IBS
Here's how it works:
Register for the program by 31st May, 2021 and provide details of your Voraxor use: which paddock(s) you treated (by GPS), when the Voraxor was applied and what crop was sown.
If you're not satisfied with the level of broadleaf weed control within 42 days (6 weeks) of crop emergence, contact your BASF representative to arrange a paddock inspection.
If the level of control of the 16 registered broadleaf weeds is assessed at below 80% across the treated paddock, we'll give you three choices of replacement product:
INTERVIX® (CLEARFIELD CROPS): To apply a recovery spray @ 600 mL/ha
or
SHARPEN®: To apply a recovery spray @- 34 g/ha at SSR timing
or
VORAXOR®: As much Voraxor as was used on the unsatisfactory paddock(s) in 2021 for use in 2022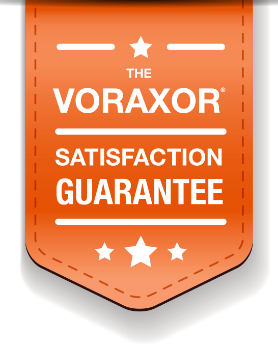 Register for the Voraxor Satisfaction Guarantee

If you have applied Voraxor for pre-emergent residual broadleaf weed control, simply fill in and submit this form before midnight on May 31, 2021 to register for our Satisfaction Guarantee.