The complexity of disease identification
| | |
| --- | --- |
| News Release | 14 February, 2018 |
Amongst the challenges of today's farming, disease identification in crops is also becoming increasingly complex. Shifts in the incidence, severity and susceptibility of various pathogens are all impacting on the level of control achieved and this is being further complicated by misidentification with physiological disorders where the field symptoms may appear to be similar.
The diagnosis of crop diseases must be accurate in order to apply the appropriate management strategy. First it is important to know whether the visual lesions are actually caused by a pathogen. Recent testing has indicated that barley diseases including Net Form Net Blotch (NFNB) and Spot Form Net Blotch (SFNB) in barley are proving particularly difficult to diagnose, with similar visual symptoms to various physiological disorders such as boron toxicity and other nutrient deficiencies.
SDHI fungicides have now been used in barley for approximately 30 years in the form of seed treatments based on the active constituent carboxin which provided smut protection. However, modern chemistry breakthroughs mean that fourth generation SDHI fungicides, like Systiva® (launched locally in 2016) have been developed as the next evolutionary step in this class of chemistry to be technically superior, meaning they will work on a much wider disease spectrum and where first generations SDHIs may be failing.
Across 2016 and 17, The Centre for Crop and Disease Management (CCDM) tested in vitro close to 100 samples of barley alone and to date, no sample tested for NFNB or SFNB has shown any resistance to fourth generation SDHI fungicides.
Gavin Heard, Head of Development at BASF Australia says these are two separate issues in field resulting in confusion for both growers and agronomists trying to increase their yields. Setting the record straight, Heard says adhering to the label rate and following good resistance management practices is the best way to see strong yield results and clean fields.
"Systiva when used at the correct label rate offers growers a unique level of control of barley foliar diseases that previous SDHIs did not," Heard explains.
"No resistance to Systiva has been detected to date, so to understand the root cause of these issues, our team is working closely with barley growers to monitor and facilitate independent testing."
BASF's nationwide monitoring program initiated earlier last year has been key to identifying the root cause of barley grower concerns.
"What the Independent testing has found, is that the efficacy of Systiva is often highlighting an underlying issue – like high levels of boron in the soil resulting in boron toxicity, identified as the cause," added Heard.
When it comes to physiological damage, a fungicide will be ineffective and growers need to be aware of early signs of nutrient toxicity.
"The other issue coming through is incorrect application rates, it is vital that all farmers use the label rate of any product and follow good resistance management practices" Heard added.
Since introducing Systiva, BASF has actively encouraged growers and agronomists to use foliar fungicides containing different modes of action, such as Opera® Fungicide combined with barley varieties with higher genetic tolerance and adequate crop rotations to minimise the risk of resistance developing whilst also maximising their yield.

Figure 1. Spot the difference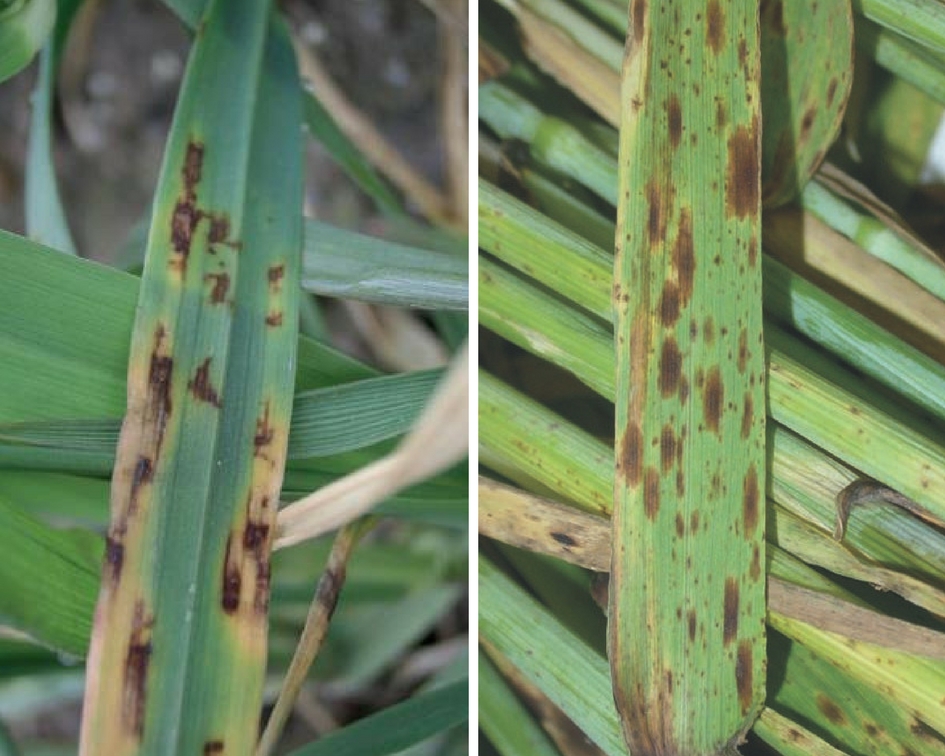 Left: Spot form net blotch disease infected barley leaves
Right: Physiological symptoms on barley
About BASF's Crop Protection division
With a rapidly growing population, the world is increasingly dependent on our ability to develop and maintain sustainable agriculture and healthy environments. BASF's Crop Protection division works with farmers, agricultural professionals, pest management experts and others to help make this possible. With their cooperation, BASF is able to sustain an active R&D pipeline, an innovative portfolio of products and services, and teams of experts in the lab and in the field to support customers in making their businesses succeed. In 2016, BASF's Crop Protection division generated sales of €5.6 billion. For more information, please visit us at www.agriculture.basf.com or on any of our social media channels
About BASF in Australia and New Zealand
BASF posted sales of about €417 million in Australia and New Zealand in 2016, serving key industries in the agriculture, coatings, construction, manufacturing and mining sectors. As of the end of 2016, the company had 493 employees and operated 13 production sites across the sub-region, manufacturing agricultural solutions, performance products and functional materials & solutions. BASF has been active in Australia for more than 90 years, and for about 60 years in New Zealand. Further information is available on the Internet at www.basf.com/au.
About BASF
At BASF, we create chemistry for a sustainable future. We combine economic success with environmental protection and social responsibility. The approximately 114,000 employees in the BASF Group work on contributing to the success of our customers in nearly all sectors and almost every country in the world. Our portfolio is organized into five segments: Chemicals, Performance Products, Functional Materials & Solutions, Agricultural Solutions and Oil & Gas. BASF generated sales of about €58 billion in 2016. BASF shares are traded on the stock exchanges in Frankfurt (BAS), London (BFA) and Zurich (BAS). Further information at www.basf.com.
Twitter Post

BASF
3 days ago
Congratulations Ash on the 'Goldie', wonderful recognition of your contribution in 2020🙌 https://t.co/aDp761fsAv
Twitter Post

BASF
4 days ago
Great opportunity to have Steve Sammartino - Australian Futurist, Author, Technologist & Speaker join our conferenc… https://t.co/7Mwf9chs9z
Twitter Post

BASF
5 days ago
Congratulations @Damien_J_Hooper on winning the BASF 2020 ANZ Salesperson of the Year Award. Damien has made an o… https://t.co/YND09t9cvP